VR Bride: Ms. Julia Villamonte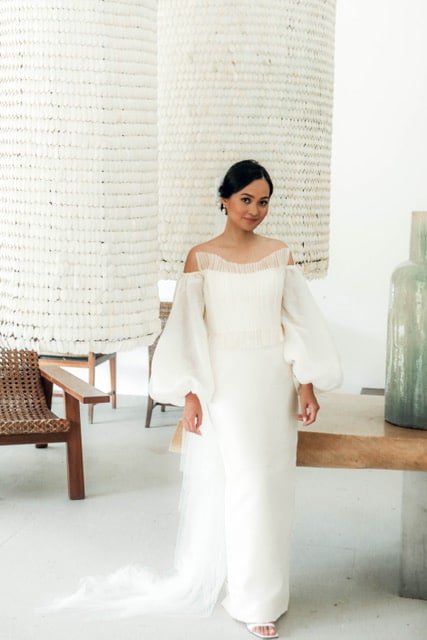 Destination: Sorsogon, Philippines
"We got married in August 2021, still in the height of the pandemic here in the Philippines. I contacted Vania in April to finalize the dress. It was already close to the date because of all the changes in our wedding plans.
Since I'm based in Milan, we had to do half of our meetings online. My husband Gio, even had to take my measurements with Vania and her team's assistance.
When we got to the Philippines for the wedding and had to do ten days of quarantine, Vania sent the dress over to the hotel. I had to do the first fitting there while Gio was in the toilet so he wouldn't see. After the quarantine, I went to the studio to finally fit the dress with her for just minor adjustments.
There were some elements I knew I wanted in the dress like the fabric and the sleeves. I knew I wanted to wear piña. I thought it would be really meaningful if went for something traditional. I've been a fan of Vania's work and after seeing many of her dresses made in piña, I knew she had to do my dress."