VR Bride: Ms. Jess Wilson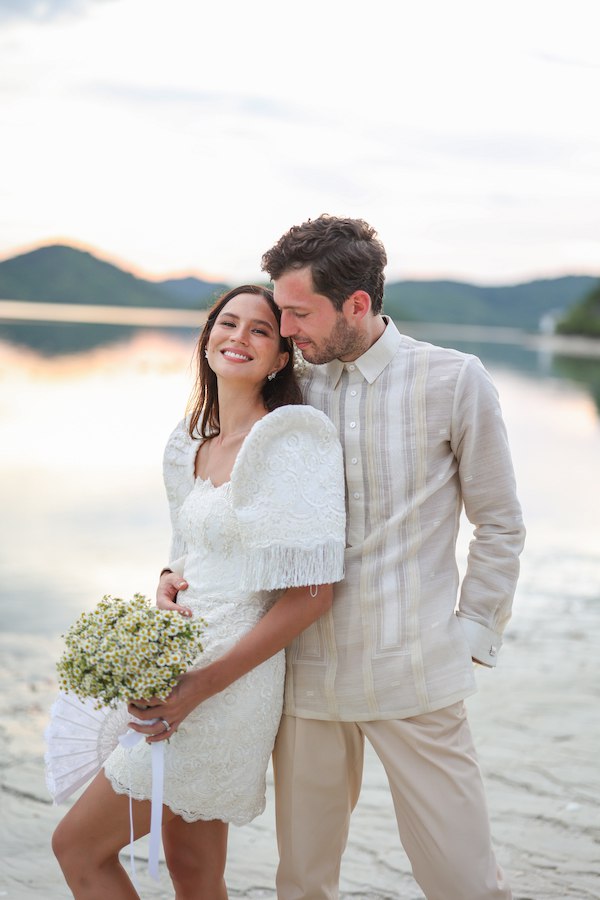 Destination: Palawan, Philippines
"It's been a year since I wore the dress that Vania made for our civil wedding in Palawan. Just thinking about the dress brings me so much joy. I didn't know what to expect. All I asked Vania for was a terno dress that was both modern and traditional.
Back in school, we had to wear a Filipiñiana once a year and I hated it so much that I would skip school. So it's funny to me now that for my wedding day, I knew it had to be a traditional Filipino wedding of the barong and terno.
I think everyone looks so beautiful and elegant in our traditional costume and Vania's take on it makes it so much more romantic — if that's even possible!"
"I still remember the feeling of when I first put it on — tears instantly came rolling down my eyes."
"
The ivory lace was so delicate and beautifully placed. The butterfly sleeves were so elegant but not over the top. The fringe detail was the perfect amount of playful without being distracting and the mini cut was perfect for a beach wedding — casual yet elegant. 
Vania also designed an overlay skirt that I could put over the dress for an evening look that suited our candlelit dinner.
I couldn't think of a more perfect and memorable dress for the occasion. Working with Vania was and always be a dream. I'm forever grateful for her and what she created for me for this special occasion."